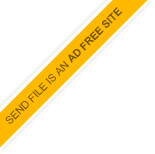 Do you want to send a file to someone? Is that file too large to send via email?
Send File
allows you to send files up to 1Gb in size to your
friends
,
family
or
business
.
Simply select the file you wish to send, include the delivery details
*
and click the send button.
It really is that simple...
*
Send File highly value your privacy. We guarantee that no information entered will ever be passed onto a third party.
EASILY EMAIL LARGE FILES


Choose the file that you would like to send.


Enter the email address of the person to receive your file.


Click the "send file" button to deliver your file.
Ready to get started?
Click here to sign up now
.